Do you know that? A repair or renovation in the house, yard or garden is pending. You need a very special color for each material. One works for the wall and the next for the wooden door. After all, the metal fence calls for a completely different paint pot. Because of this, the hardware stores are full of it. It is no different in the printing industry either. Because there are countless color formulations and printing inks and the associated printing machines, depending on the intend use and substrate. Today we introduce you to UV printing.
What is UV printing?
UV printing is one of the direct printing processes. The ready-to-print file is sent directly from the PC to the printing press. This then applies the color directly to the material and cures it using UV light.
UV technology is use, for example, in offset or flexographic printing. Many products from the Industrad Group range are manufacture using digital UV printing. The palette of our print shop ranges from individually design advertising materials to personal everyday items.
How does a UV printer work?
The machine is equip with a so-called pressure carriage. It houses additional small containers for the UV printing ink and the print heads. These apply the color ink to the material line by line.

In the same process, a special UV light dries the fresh print. Here is the use

UV Xenon burner

. These are also commonly refer to as mercury vapor lamps.

Modern printing machines are equip with energy-saving

UV LED lamps

.

This drying process is also known as 

chemical hardening

. UV radiation is short-wave, high-energy radiation in the invisible range. It hardens the liquid ink within a fraction of a second.
What processes are involve in UV printing?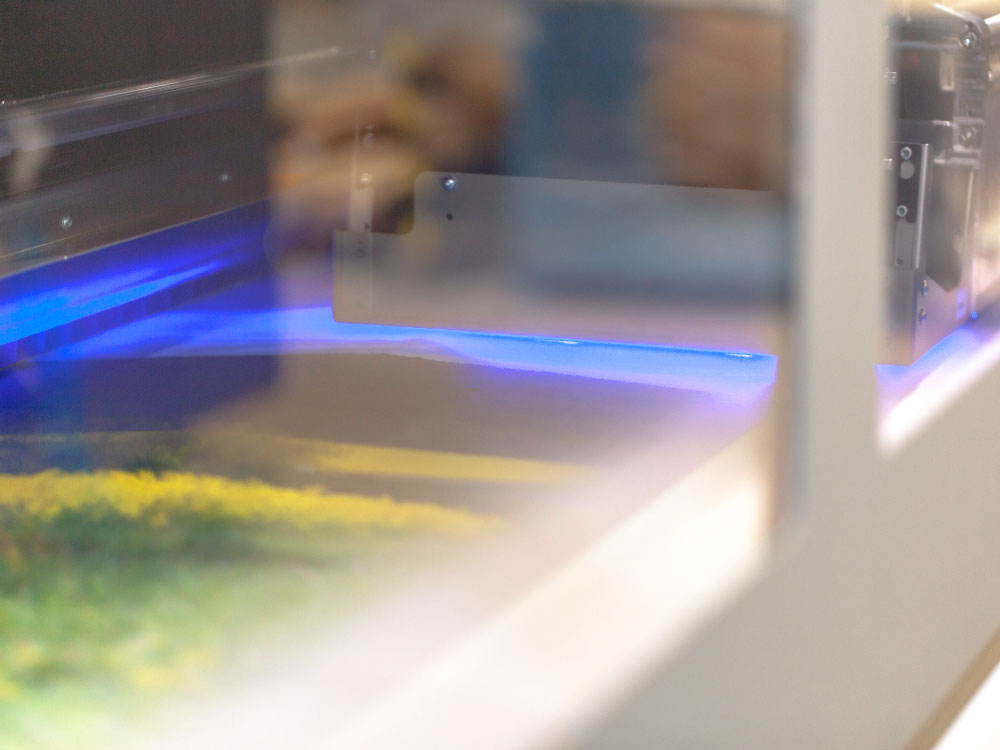 With UV printing, UV light triggers a chemical reaction. The UV inks use for this contain photo initiators. When the light hits them, they break down into free radicals. These are molecules that have a free electron.
These now try to form compounds with other molecules during the chemical reaction. As a result, the color pigments and additives of the ink combine to form a long polymer chain in this process. When this process is finally over, all particles are network with one another. The result is a fully cure layer of ink.
Which UV printing inks are there?
The colors cyan, magenta, yellow and black are use as a standard in digital UV printing in Pakistan. Modern printing machines also offer the use of optional inks. Special colors such as red, orange, or purple increase the range of colors that can be display considerably. In addition, light cyan or light magenta as an additional color improve the color gradations or color gradients. Skin tones on faces look so much more natural.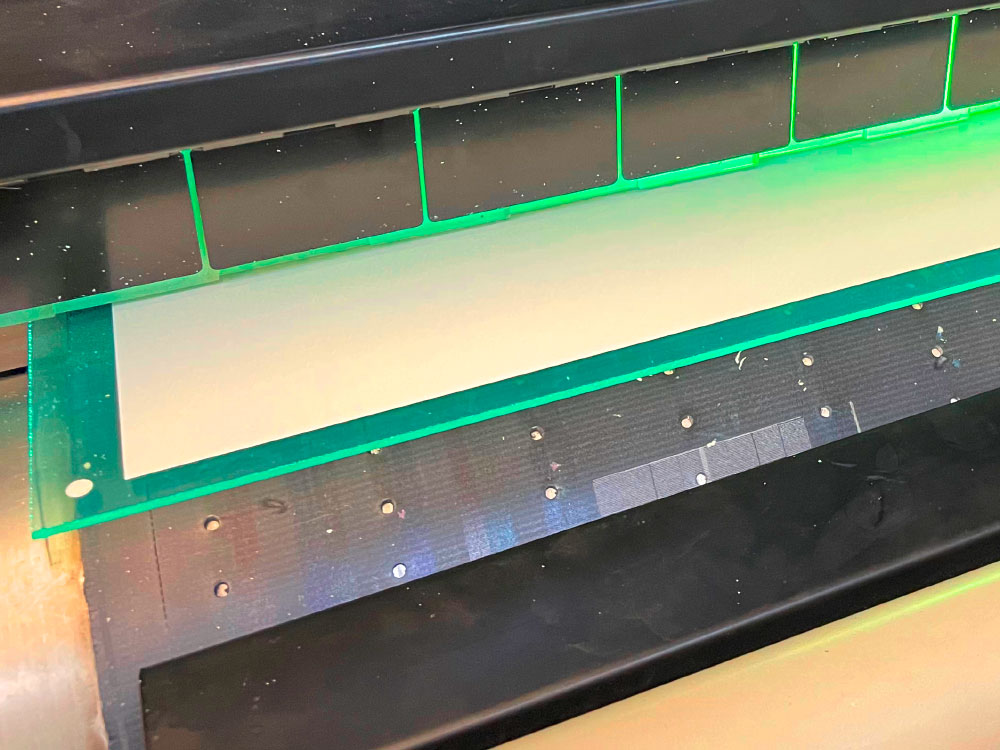 Here you can see an acrylic sheet print with white behind.
---
In addition, the color "white" creates additional effects when printing on transparent materials.
You can find out which special effects are possible with and without white printing in our blog post Perfect design with and without white printing.
When UV ink is pigment inks. This means that the color pigments adhere to the surface of the material. This prevents them from penetrating the fiber, as is the case with sublimation inks, for example.
We basically differentiate between two types of UV inks:
UV ink for rigid materials
---
Characteristics:
good surface resistance,
low stickiness
---
Mission:
Hard foam, aluminum composite, hollow chamber, acrylic glass
---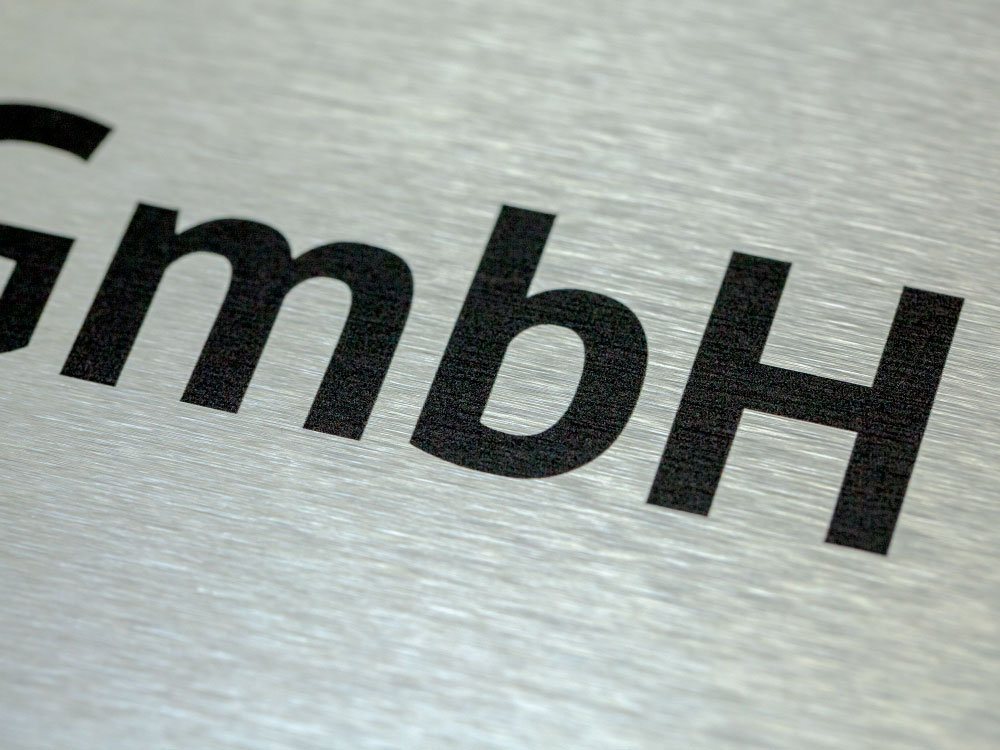 UV ink for flexible materials
---
Characteristics:
high flexibility,
good adhesion to various materials
---
Mission:
Wallpaper, PVC tarpaulin, netting vinyl, polyester fabric (e.g. tent goods)
---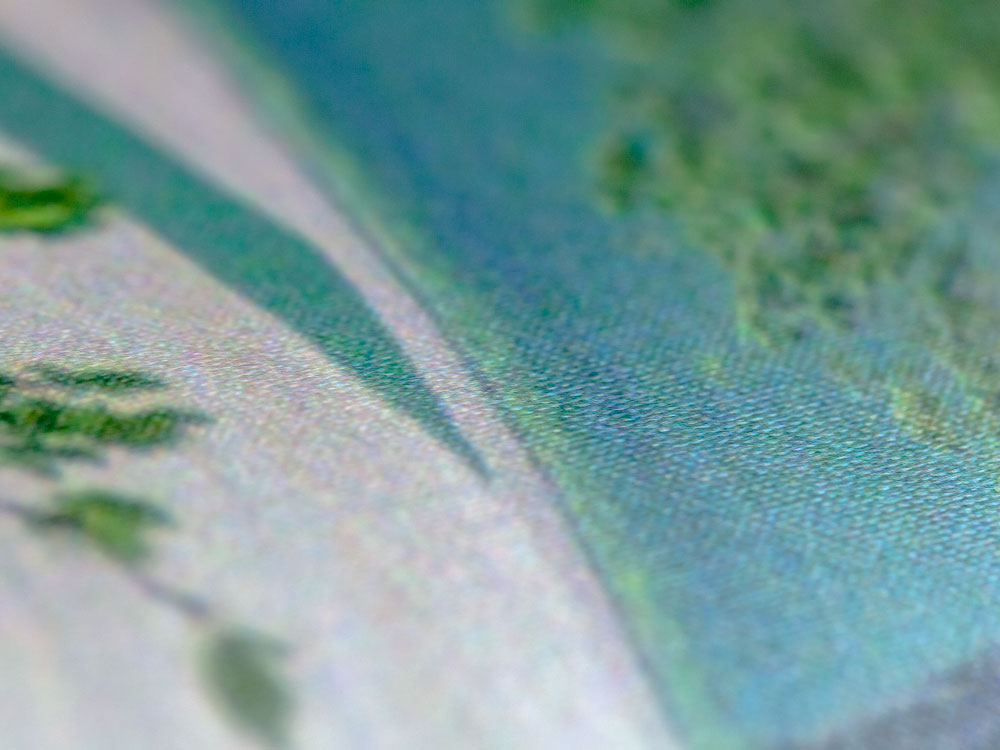 What are the special requirements for UV direct printing?
Smooth surfaces, such as a glass plate, may not offer sufficient adhesion for the UV ink. Special pre-treatments solve these problems.
Flame material: A flame heats or changes the surface of the material. This improves wettability and creates better adhesion between paint and material.

Applying a primer:

 A primer is a type of primer. It is applied with a spray gun, for example, and also improves the adhesion of the ink to the printing material.
In addition, there are a large number of materials that can be print directly without pretreatment. These include aluminum composite, rigid foam, or twin-wall panels.
By the way, our UV printer prints on rolls up to five meters wide and (almost) unlimit in length. Is that not enough for you? Then talk to us! With our HF welding system, we connect several lines to your major project.
In HF welding, materials are connect to one another using high-frequency energy. Electrical energy sets the molecules in motion. The resulting heat makes the material soft and the sheets melt together. After a cooling-down phase, the material can withstand normal loads.
How can you additionally protect the print surface?
Specially pretreat textiles can be laminate after printing on request.
Laminate is a water-base solution. The material is coat with it and then dried.
This treatment improves the scratch protection of the surface. The laminate also has a positive effect on the water column and UV resistance of the print.
What are the advantages and disadvantages of UV printing?
advantages
disadvantage
For which Industrad Group

products are UV printing use?
Solid/rigid materials:

plate printing

for advertising, construction, or signboards made of acrylic glass, hard foam and aluminum composite, 

beer garden tables

, 

photo watches

Flexible materials: 

folding tents and pavilions

, 

wallpaper

, large format printing on 

PVC tarpaulin

 and PVC mesh vinyl for scaffolding and events
Conclusion
Let's see: UV printing is a very versatile printing process. An excellent print resolution of up to 1000 dpi delivers razor-sharp prints. The prerequisite for this is of course the quality of the print data you have supplied.